I've been wanting to make a savory cupcake (maybe this counts as a "cupfake" too!) for awhile now, and it struck me the other day that a cheddar bacon biscuit would be delectable with some creamy avocado on top. So I pondered and googled for a week to work out the details, and voila! These came out so, so yummy. You should DEFINITELY make these!!



Cheddar Chive Bacon Cupcakes with Avocado Frosting
Cheddar Chive and Bacon Cupfakes with Avocado Frosting
---
Recipe By:


-Jim N' Nicks (cheddar biscuits, tweaked)
-Me, with various internet inspiration (avocado frosting)


Yields: 15-17 cupfakes

Cupfake Ingredients:
1 1/2 cups flour
1 cup sugar
1 cup shredded sharp cheddar
3/4 cup whole milk
1 egg, beaten
4 tablespoons butter, softened
1 1/2 teaspoons baking powder
1/4 teaspoon vanilla
5 strips bacon, cooked and chopped, divided
1/2 sweet onion, chopped finely
2 tablespoons of chives, chopped finely
2 tablespoons olive oil

Avocado Frosting Ingredients:
4 ripe avocados
4 ounces cream cheese
1 teaspoon lemon juice
salt and pepper to taste

Directions:

Cupfakes: Cook bacon on stovetop or in oven. I bake on a foil-lined baking sheet at 400 degrees for 15-20 minutes, and drain on paper towels. Crumble 4 strips into small bits, leaving one strip whole for garnish.

In the meantime, pour 2 tablespoons of olive oil into skillet over medium high heat. Add onion and cook until caramelized, stirring occasionally. Set aside.

Preheat oven to 400 degrees. In a large bowl, mix flour, sugar, cheese, milk, egg, butter, baking powder, vanilla, chives, caramelized onion, and bacon bits. Pour into a greased (or paper-lined) muffin pan. Bake for about 20 minutes. Allow to cool for a couple of minutes in pan, and then transfer to a cooling rack. Frost only when completely cool.

Avocado Frosting: Mash avocado flesh well in bowl with the back of a spoon or fork. I processed mine in a food processor to ensure extra smoothness. Add in lemon juice and cream cheese, and mix until you have a smooth, creamy consistency. Frost cupcakes close to serving time (see note below) with a big star tip (I use 1M). Garnish with pieces of bacon.

NOTE: The base recipe here is for cheddar biscuits similar to those you find at Jim N' Nicks, a barbecue chain. The recipe produces a savory muffin with a bit of sweetness to it. If you don't like jam on your biscuits or sugar in your cornbread, you might not be too fond of this base recipe. Feel free to cut down on the sugar or try a different cheddar biscuit base (Red Lobster's recipe is delicious, but I'm not sure how it'll work in the muffin pan) to mix your bacon, chives, and onions into.

Also, if you're not keen on avocado, do make the biscuits without the frosting. They're delicious even with no topping at all.

NOTE on storage: Store cupcakes in airtight container in fridge when frosted. Place avocado pits in container along with cupcakes to discourage browning (but don't fret if the frosting browns -- it's just oxidized, and still quite edible and yummy). You may even want to half the recipe if you're just making these for your family, since they almost certainly won't maintain their beautiful green overnight. For taking them to coworkers or friends, I would make the cupcakes ahead of time and frost immediately before the event.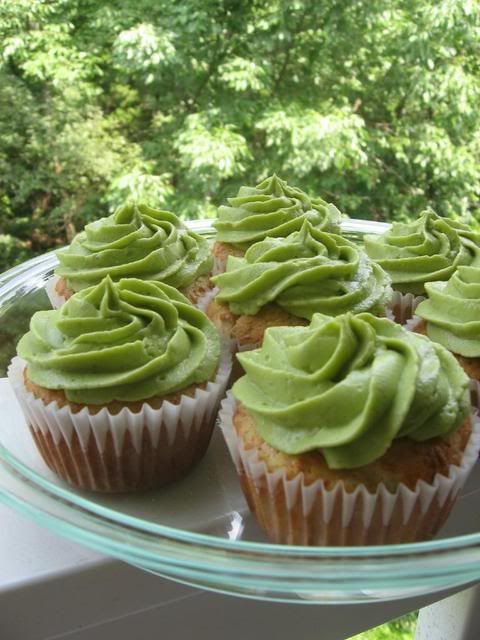 Cheddar Chive Bacon Cupcakes with Avocado Frosting






More info and pictures (including process photos) can be found at my baking blog, Willow Bird Baking!


x posted to bakebakebake and curiouscupcakes