favorite
candies ever. They're so delicious, in fact, that I wanted to cupcakize them :)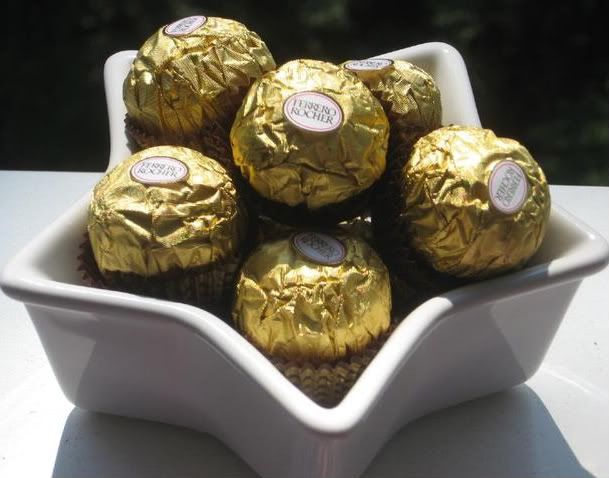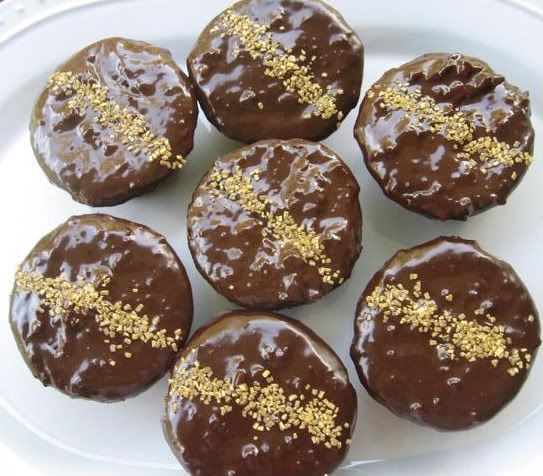 Ta da! Ferrero Rocher Cupcakes :)
The negatives: the candies got a little soft as the batter cooked, losing some of their crunch. In addition, they needed to be frozen longer before baking, I think (I only froze them for 15 minutes), as the bottom melted to the cupcake papers a bit. These texture changes were the only real flaws I noticed.
The positives: delicious chocolate cupcake, and the candy maintained it's fantastic flavors. The ganache was yummy and not too sweet or overpowering. All together, they were very tasty!
Ferrero Rocher Cupcakes
---


Recipe By:


-Michelle (cupcakes)
-Alton Brown (ganache, tweaked)
-Ferrero Chocolates (they provide the chocolates, y'all!)



Yields: 24 cupcakes

Cupcake Ingredients:
2 cups (500 mL) all-purpose flour
2 cups (500mL) sugar
1/2 cup (125mL) cocoa powder
2 teaspoons (10mL) baking soda
1 tsp (5mL) baking powder
1/2 tsp (2 mL) salt
1 cup (250 mL) vegetable oil
2 eggs
2 cups (500 mL) of butter milk
2 teaspoons (10 mL) vanilla
24 Ferrero Rocher candies

Ganache Frosting Ingredients:
8 ounces semisweet chocolate, chopped fine
8 ounces (1 cup) heavy cream
1/2 cup hazelnuts, finely chopped
gold sprinkles or edible gold leaf (optional)


Directions:

Cupcakes: Freeze 24 Ferrero Rocher candies for 30-45 minutes before baking. Preheat oven to 350 degrees (180 degrees Celsius).

To make cupcakes, sift together flour, sugar, cocoa powder, baking powder, baking soda, and salt. In a separate bowl, mix together oil, eggs, buttermilk and vanilla. Add wet ingredients to dry, mixing well. Increase speed and beat for 2 minutes, until well combined. Spoon into 24 paper-lined muffin cups, filling halfway. Do not overfill, no matter how tempting! Plop one frozen candy into the middle of each cup of batter.

Bake for about 15-20 minutes or until tops are firm and toothpick inserted into cake comes out clean. Let cool in pan for a few minutes, then transfer to rack and cool completely.

Ganache Frosting: Heat the heavy cream in a saucepan until just simmering (careful not to let it boil over). Pour the cream over the chopped chocolate in a heat-resistant bowl. Let sit for 2 minutes. Mix well until smooth. Add in finely chopped hazelnuts and mix. If ganache is too runny, let it cool for awhile until it's at the appropriate consistency. Then, dip the tops of room temperature cupcakes into the ganache, letting excess drain for a few seconds before righting the cupcakes. Sprinkle gold sprinkles or lay a piece of edible gold leaf in the center of the cupcake for a decoration. Let cool completely.

For process photos and more description of the shenanigans, go to my baking blog,
Willow Bird Baking
.
x-posted to bakebakebake
Ferrero Rocher are my absolute