So my darling boyfriend has some severe food sensitivities (wheat, dairy, sugar, corn etc etc) so it is always a challenge to find delicious amazing recipes. Well he's had a pretty crap week and I'm home sick and figured hey, why not make awesome cookies.

So I did.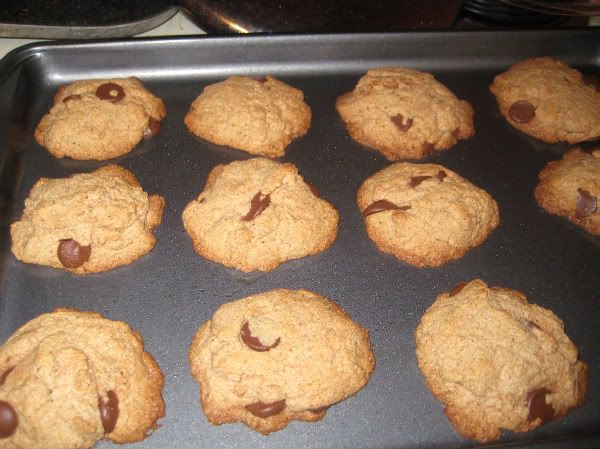 I cannot explain how amazing the smell is in my apartment. They're rich and spicy with a lot of honey sweetness, but not too much. Just right! Barley flour can be a little dense, and the honey and spice really balances that. And the masala adds an amazing depth to it which leaves just a tingle of burn after eating them.

I love making up recipes!

Honey Garam Masala Cookies
2 cups barley flour
3/4 cup honey
1 tablespoon garam masala (seems like a lot but the flour eats a lot of the spice)
1 teaspoon cinnamon
1 tablespoon vanilla extract
1/2 cup + 2 Tablespoons of canola oil (or light oil of your choice)
1/2 + 1/8 teaspoon baking soda
a handful of dark chocolate chips (I used Ghirardelli dark chocolate disks), I am sorry I did not measure, let's say 1/2 cup-ish?

Mix the dry ingredients then add the wet. Mix everything together! Then put tablespoon-sized blobs onto an ungreased baking sheet.

Bake at 350 degrees for 12-15 minutes. (12 for soft, 15 for crisp)

Let cool at least 3-5 minutes before trying to remove, barley flour tends to stay gooey longer and it makes it hard to remove.

Enjoy the delicious cookies!

Hope people like this recipe, I apologize if anything is wonky I am very much a novice baker. But I can whip up a béchamel anytime! (I saved NYE this way, true story).