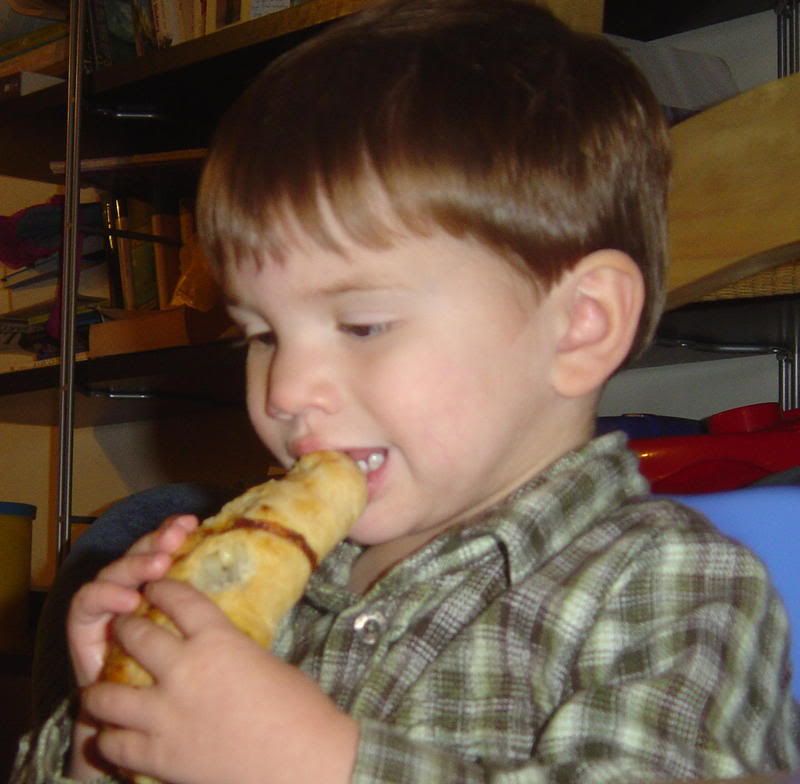 Recipe after the cut


Vegetarian Cornish Pasties

Pastry

3 cups all-purpose flour
3/4 cup butter
ice water


Filling

2 medium potatoes, peeled and diced small (actually, I think my Cornish grandmother would have very thinly sliced the veg. But hey)
1 carrot, diced small
1 small rutabaga, diced small
1 onion, finely chopped
1 cup grated cheddar
1 tsp dried thyme
1 cup well-flavoured vegetable stock
1 1/2 tsp cornstarch


Method

Measure out the flour into the bowl, and finely dice the butter. Place both in the fridge for an hour or so to get really cold.
Cut or rub butter into flour, till mixture resembles coarse breadcrumbs
Add ice water a dribble at a time and mix with fork until dough is just combined.
Wrap dough and refrigerate for another hour or so.

Heat vegetable stock to a boil. Mix cornstarch with a little cold water, and add the stock to it. Stir, and return to saucepan. Bring to boil - mixture should thicken slightly. Add thyme and stir. Allow to cool.

Preheat oven to 400F
Roll out dough. Using a dinner plate as a template cut circles of pastry - with care and re-rolling there should be just enough for three circles. Use plenty of flour - you don't want the pastry to have stuck to the worktop when you come to form the pasties.
Place filling in pasties as follows. Place a layer of potato across the diameter of the pastry. Follow with a layer of rutabaga, then carrot, then onion. Place grated cheese on top. Then spoon a little of the stock on top of that. Do not overfill!
With a pastry brush and a little water, dampen round half the edge of the pastry circle. Fold the pastry over on itself to make a semicircle, and crimp edges - I turn a little of the edge over on itself and squish, and repeat round the semicircle. My Aunt tells me a pasty should have about 21 turns round the edge, but I've never quite achieved that! Cut some holes in the top of the pasty to allow steam to escape. Place on a baking sheet lined with baking parchment.

Bake for an hour starting at the top of the oven - as the pasties brown lower the temperature and their position in the oven by degrees until by the end of the baking period the temp is 350F and they are on the bottom shelf.

Cornish Pasty purists would object to the use of carrot in the pasty, and even more so to the cheese. But my grandmother, who was about as Cornish as its possible to be, and who brought up eight children during the depression of the thirties and the Second World War, made pasties with whatever came to hand. I claim her as my precedent.