You're going to be shocked by how delicious this cake is. SHOCKED, I tell you! Enjoy!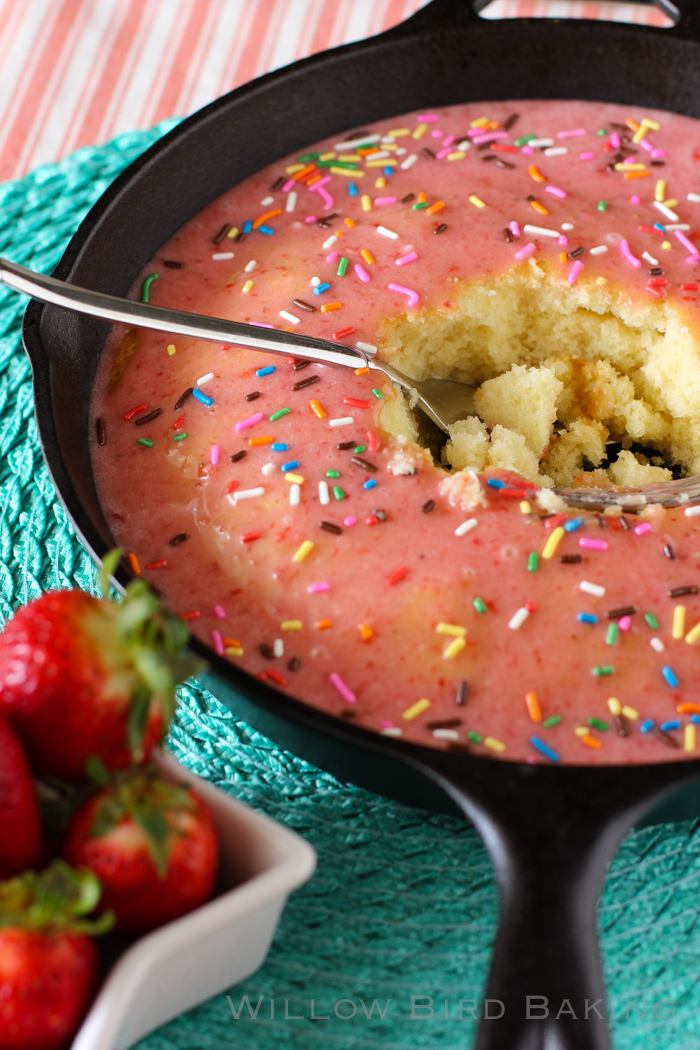 Strawberry Doughnut Cake
---

Recipe by: Willow Bird Baking with strawberry glaze adapted from Sally's Baking Addiction
Yield:

Cake Ingredients:
1/2 cup (1 stick) butter
1/2 cup water
1 cup plus 2 tablespoons cake flour
1 cup white sugar
1 egg, lightly beaten
1/4 cup sour cream
1/4 teaspoon almond extract
1/4 teaspoon vanilla extract
1/2 teaspoon baking soda
1/2 teaspoon salt

Glaze Ingredients:
5-6 strawberries, chopped
1 tablespoon strawberry jam
1 tablespoon milk
2 cups powdered sugar
1/8 teaspoon vanilla extract
sprinkles (optional)

Directions:
To make the cake: Preheat the oven to 375 degrees. In a medium saucepan over medium heat, bring the butter and water to a boil. In the meantime, in a separate large bowl, whisk together the cake flour and sugar before adding the eggs, sour cream, almond extract, vanilla extract, baking soda, and salt. Mix to combine. While mixing, slowly pour in the boiling butter and water mixture. Mix to combine completely. Your batter will be very runny. Pour the batter into a 10-inch cast iron skillet (alternatively, I think this would work fine in a 8-inch square baking pan lined with parchment paper.)

Bake at 375 degrees for 15-18 minutes or until a toothpick inserted in several places comes out with a few moist crumbs (don't wait for the top to get golden brown, necessarily — mine stayed pale). Cast iron skillet cook times can be variable, so check early and often. Cool completely.

To make the glaze: Put chopped strawberries and jam into a food processor or blender to puree. Pour into a medium bowl and mix in milk. Gradually whisk in powdered sugar. Pour glaze over the cake to cover (I used most but not all of it) and top with sprinkles.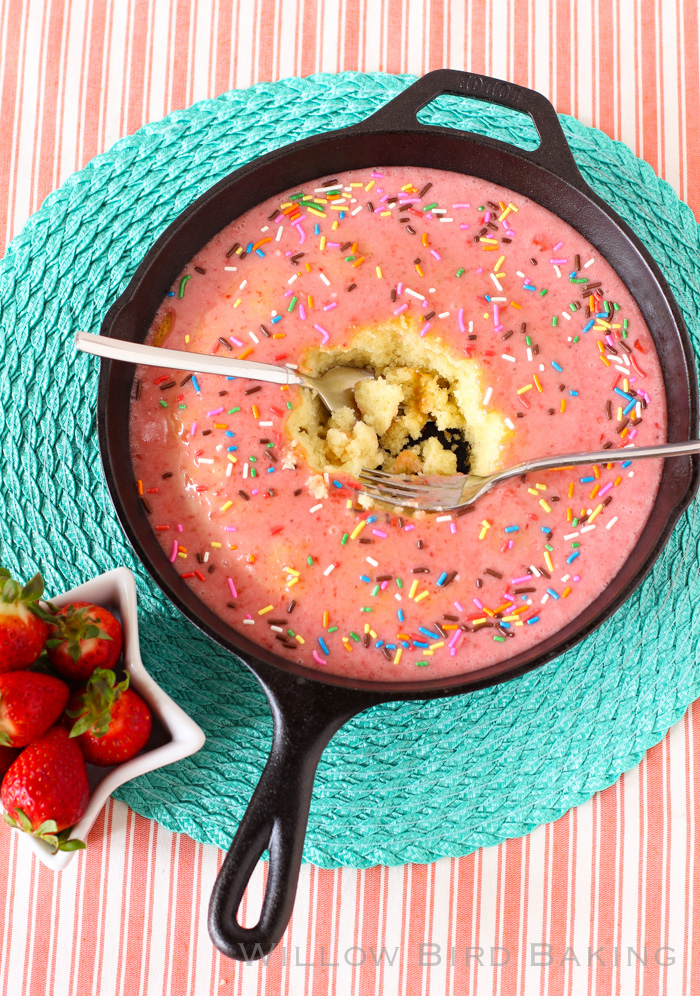 To read about why I now own a doughnut clock, see the giveaway Zazzle is hosting, and see more photos, please head over to Willow Bird Baking!

x-posted to food_porn, picturing_food, cooking, bakebakebake
I made you SUCH AN AMAZING CAKE. Seriously, this case isn't just cute; it was so incredibly delicious. I blanketed an almond-scented bakery-style sheet cake with a luscious, dye-free strawberry glaze. And added sprinkles, obviously! Another huge bonus is that this cake was super quick to make.