It's so quick to whip up (the longest part of the recipe is waiting for the frosting to reach peak spreadability!) and is seriously, hands-down one of the best cakes I've ever eaten. YOU GUYS, I don't say that kind of thing lightly. Okay, so I have one more cake post coming this week that I'm going to say that about, too, but that's just because the recipes are both SO stellar. Really!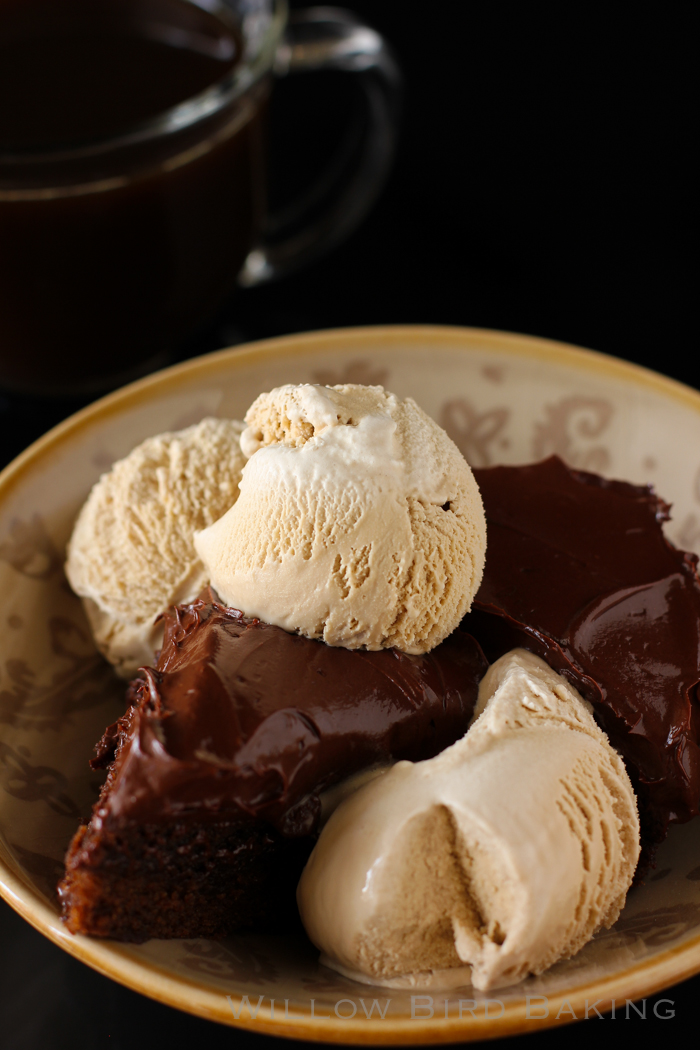 Intense Chocolate Mocha Cake
---

Recipe by: Willow Bird Baking, with frosting adapted from Martha Stewart
Yield: 9 servings

Cake Ingredients:
1 cup flour
1/2 teaspoon baking soda
1 cup sugar
1/8 teaspoon salt
1/4 cup (1/2 stick) butter
1/4 cup vegetable oil
2 tablespoons cocoa powder
1/2 cup water
1 tablespoon espresso powder
1/4 cup buttermilk
1 egg
1/2 teaspoon vanilla
2/3 cup bittersweet chocolate chips

Frosting Ingredients:
7 tablespoons cocoa powder
1 1/2 teaspoon espresso powder
7 tablespoons warm water
1 stick unsalted butter, room temperature
1/4 cup powdered sugar
1/8 teaspoon salt
8 ounces semisweet chocolate chips, melted and cooled
coffee ice cream (for serving)

Directions:
Make the cake: Preheat the oven to 350 degrees F. Spray an 8-inch square baking pan with Baker's Joy® nonstick cooking spray. Place a square of parchment in the bottom and spray this with Baker's Joy® as well.

In a large bowl, whisk flour, baking soda, sugar, and salt together and set aside. In a medium saucepan, bring the butter, vegetable oil, cocoa powder, espresso powder, and water to a boil, whisking to mix. After it boils, whisk it into the dry ingredients until combined. Whisk in the buttermilk, egg, and vanilla. Fold in chocolate chips. Pour the batter into your prepared pan and bake at 350 degrees F for 18-22 minutes or until a toothpick comes out with just a few moist crumbs (a clean toothpick means a dry cake, so be sure to pull it out before then!) Let the cake cool for about 20 minutes before cooling the rest of the way in the fridge. When your cake is completely cool, invert it onto a square plate or platter.

Make the frosting: In a small bowl, whisk together the cocoa, espresso powder, and warm water. In a separate bowl, beat together butter, powdered sugar, and a pinch of salt until pale and fluffy. Gradually beat in the melted, cooled chocolate and the cocoa mixture. Let this sit for exactly 30 minutes (no really, exactly 30!) before you use it to obtain the perfect spreadability. Pile the frosting on the top of the cake and smooth it out to an even, thick layer. Cut into slices and serve with coffee ice cream.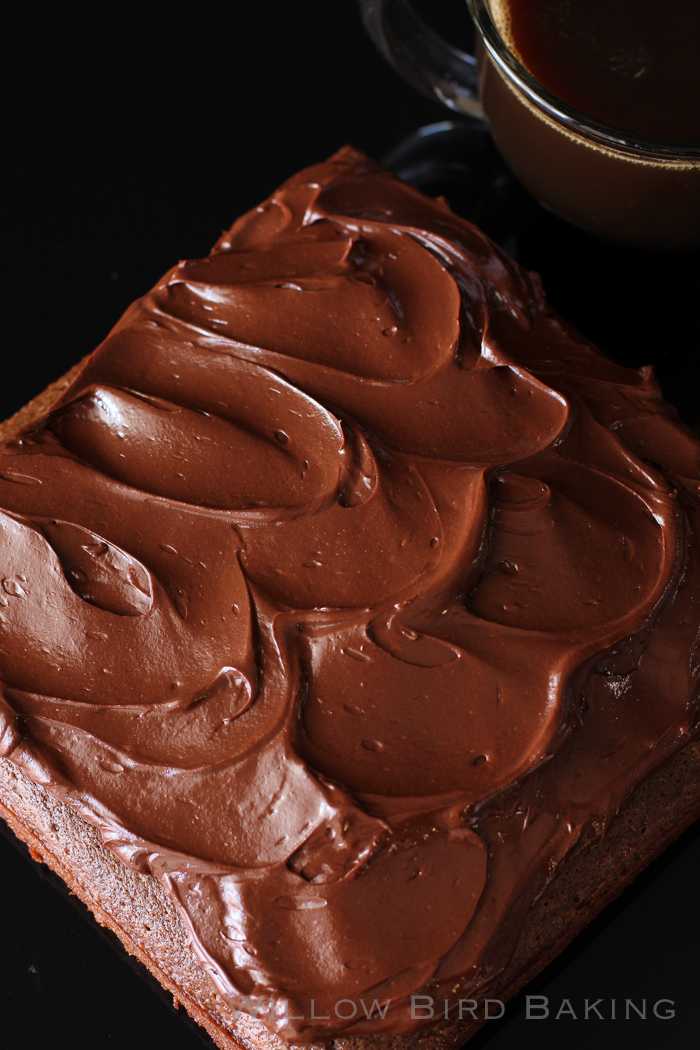 To read about Baker's Joy's "Which Sweet Treat are You?" quiz, see what prizes they're giving away, and see more photos, please head over to Willow Bird Baking!

x-posted to food_porn, picturing_food, cooking, bakebakebake
This easy snack cake packs an intense mocha punch! The espresso powder deepens the already fantastic chocolate flavor of the cake and smooth-as-silk frosting. Be sure to pour a tall glass of milk with this cake (or maybe a nice cup of coffee?)