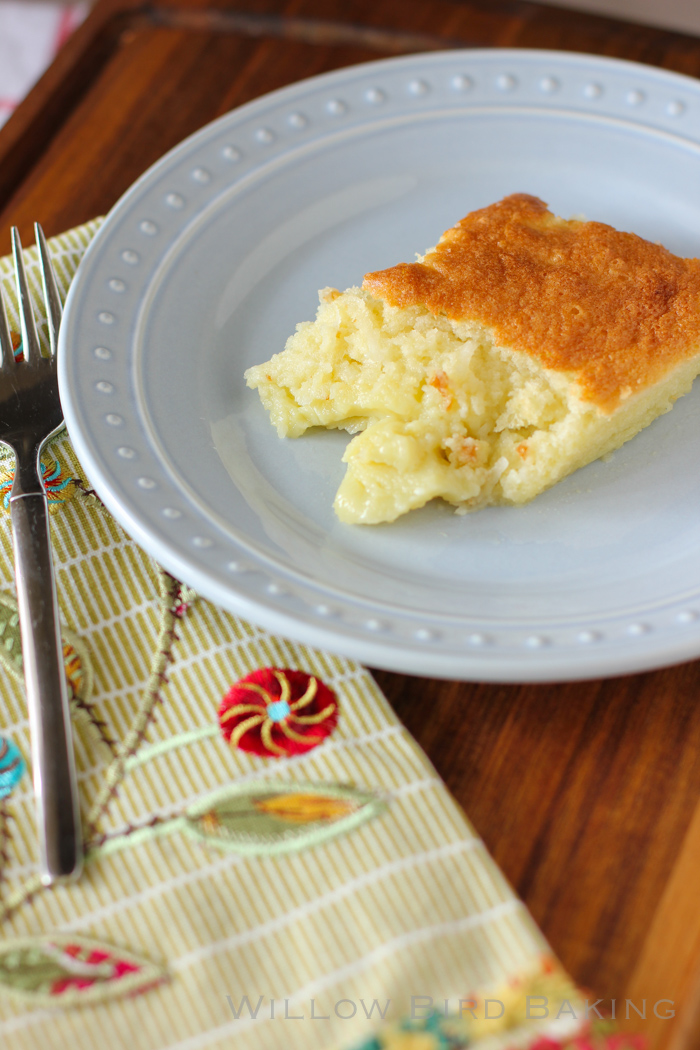 Coconut Pudding Spoon Cake
---

Recipe by: Adapted from Baked Lemon Pudding Cake
Yield: 4-6 servings

This cloudlike Coconut Pudding Spoon Cake takes just around 15 minutes to whip up and get in the oven, but it's so warm, satisfying, and moist. The texture alone is enough to knock you right off your feet. Enjoy!

Ingredients:
4 eggs, separated
1 cup sugar, divided
1/2 cup (1 stick) butter, softened
1/2 teaspoon coconut extract
1/4 teaspoon vanilla extract
5 tablespoons and 1 teaspoon all-purpose flour
1/8 teaspoon salt
1 1/4 cup coconut milk (the unsweetened kind you buy in cans)
1/2 cup shredded coconut

Directions:
Preheat the oven to 350 degrees F. Put some water in a saucepan on to boil; you'll use this for the water bath later. In the bowl of a stand mixer, whip 4 egg whites on medium speed until foamy and then slowly add 1/4 cup of sugar. Turn mixer to high and whip the egg whites to stiff, glossy peaks.

In a separate large bowl, cream together the butter and remaining sugar for 2-3 minutes until pale, fluffy yellow. Mix in the egg yolks and extracts until just combined, scraping down the sides as needed. Mix in the flour and salt until just combined. Mix in the coconut milk until just combined.

Stir in about 1/3 of the egg white mixture into the butter mixture to lighten it up. Then add the rest of the egg white mixture and the shredded coconut, folding them in gently until there are no streaks in the mixture. Pour the mixture into a shallow, ungreased 2-quart baking dish (mine is the oval seen above and is actually about 1.9 quarts.) Place the filled dish in a larger 9x13-inch baking dish on your oven rack and carefully pour boiling water up to about 1/2-inch deep around it to form a water bath. Bake for 45-55 minutes or until set and golden brown. Carefully remove from the oven and serve warm.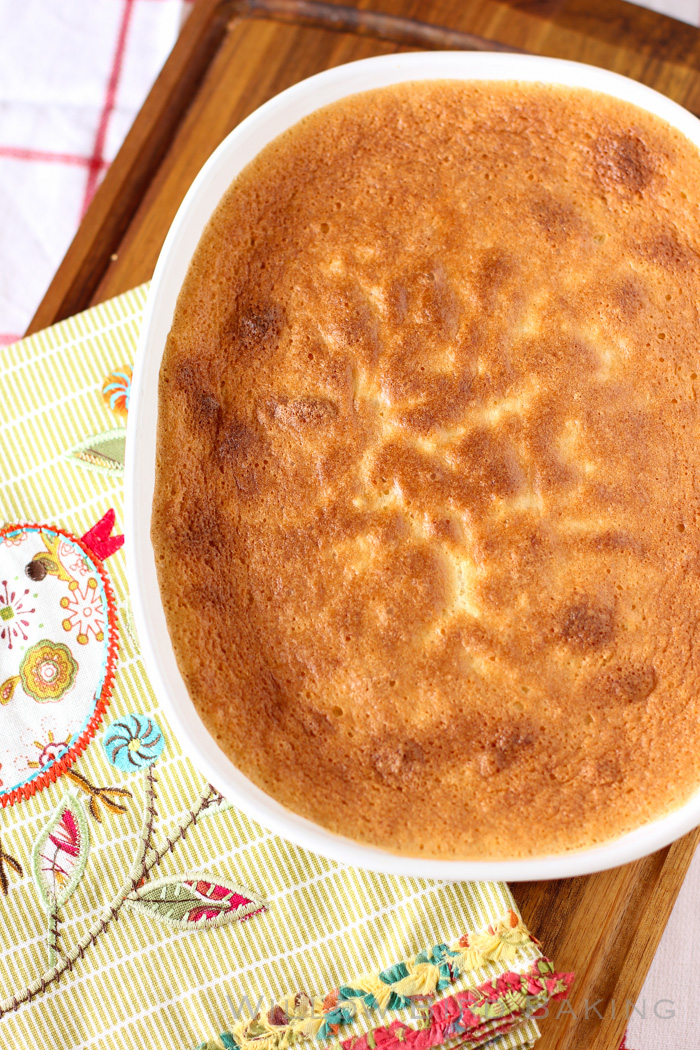 To read a cautionary tale about saying mean things on the interwebz, be annoyed by how many words I use (oh my goshhhh shut up already!), and see more photos, please head over to Willow Bird Baking!

x-posted to food_porn, picturing_food, cooking, bakebakebake
This cake will cure a host of snow-related evils. It's so quick and easy to whip up — just beat your egg whites while mixing up your butter, sugar, and egg yolks. Add a few more ingredients, fold 'em together, and pop 'em in a water bath to bake. The result is a pudding-cake masterpiece with the most heavenly cloudlike texture and a great coconut flavor.