Roomboter Banketstaaf is a traditional Dutch Christmastime treat, and it made me fall in love with the Netherlands. Flaky, buttery pastry surrounds a creamy almond filling. I topped mine with a light almond glaze and slivered almonds, but the traditional treat is often topped with a sprinkling of powdered sugar. No matter how you dress it, this dessert (or breakfast, because I might have eaten the rest of it first thing this morning) is incredible.

Thanks so much to
mamapranayama on
bakebakebake for the recipe.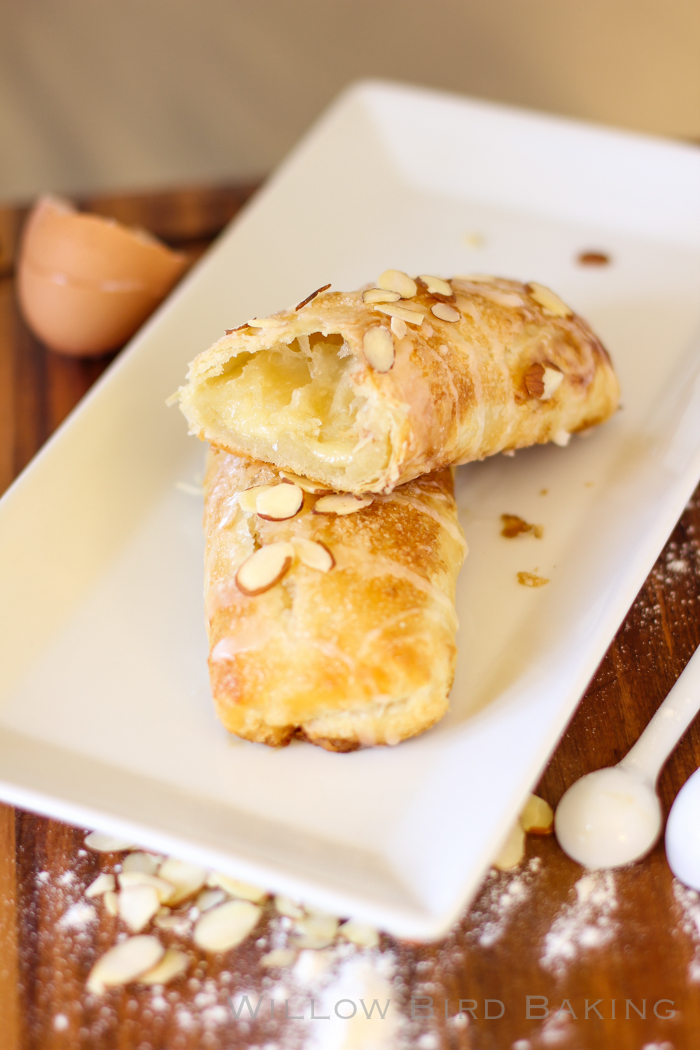 Dutch Roomboter Banketstaaf (Flaky Pastry with Almond Filling)
---

Recipe by: Adapted from Mama Pranayama
Yield: 8 servings

Dough Ingredients:
2 cups all-purpose flour
1/2 teaspoon salt
1 cup (two sticks) unsalted butter, cold
1/2 cup cold water

Filling Ingredients:
1 cup almond paste (or one 8-ounce can)
1/2 cup and 2 tablespoons granulated sugar
3/4 teaspoon almond extract
1 egg
dash of salt
1/2 cup butter, melted

Topping Ingredients:
1 egg white, beaten
sugar for sprinkling
1/2 cup powdered sugar
1 tablespoon milk
1/8 teaspoon almond extract
sliced almonds

Directions:
Place flour and salt in the bowl of a food processor and pulse to combine. Add cold chunks of butter and pulse 6-10 times to cut the fat into the flour. The butter should end up looking about the size of small peas. Add the water and process on low just until the dough rolls into a ball -- don't overprocess. (Note: You can also do these steps by hand in a large bowl using a pastry cutter or 2 knives to cut the fat into the flour and salt mixture, and then stirring in the water and forming a dough). Divide the dough into 4 discs on 4 sheets of plastic wrap. Wrap and chill for at least 30 minutes or so.

Use a hand or stand mixer to mix the almond paste, sugar, almond extract, and egg together in a large bowl. Blend until the mixture is mostly smooth.

Preheat the oven to 425 degrees F and line 2 baking sheets with parchment paper. Roll each disc of chilled dough out on a lightly floured surface to a rectangle (about 12-inches by 3-inches). Spread 1-2 tablespoons of melted butter all over the surface of the dough. Take about 1/4 of your almond paste mixture and spread it in a log, leaving about a 1-inch border on all sides, down then center of your dough. Then, close the dough by folding over each end (using a brush to brush off excess flour as you go) and then folding up the sides, pinching to seal (and using a little melted butter as glue if needed). Place your little dough packet seam-side-down on a prepared baking sheet. Egg wash it with the beaten egg white and sprinkle on some sugar. Repeat this process with your other 3 discs.

Bake packets 15-20 minutes or until nice and golden brown. Let them cool on the baking sheet for around 5 minutes before transferring them (use two spatulas or one long one to ensure they won't break) to a platter to finish cooling. As they cool, whisk together powdered sugar, milk, and almond extract to form a glaze. Drizzle the glaze and sprinkle the sliced almonds over each pastry. Slice and serve warm or room temperature.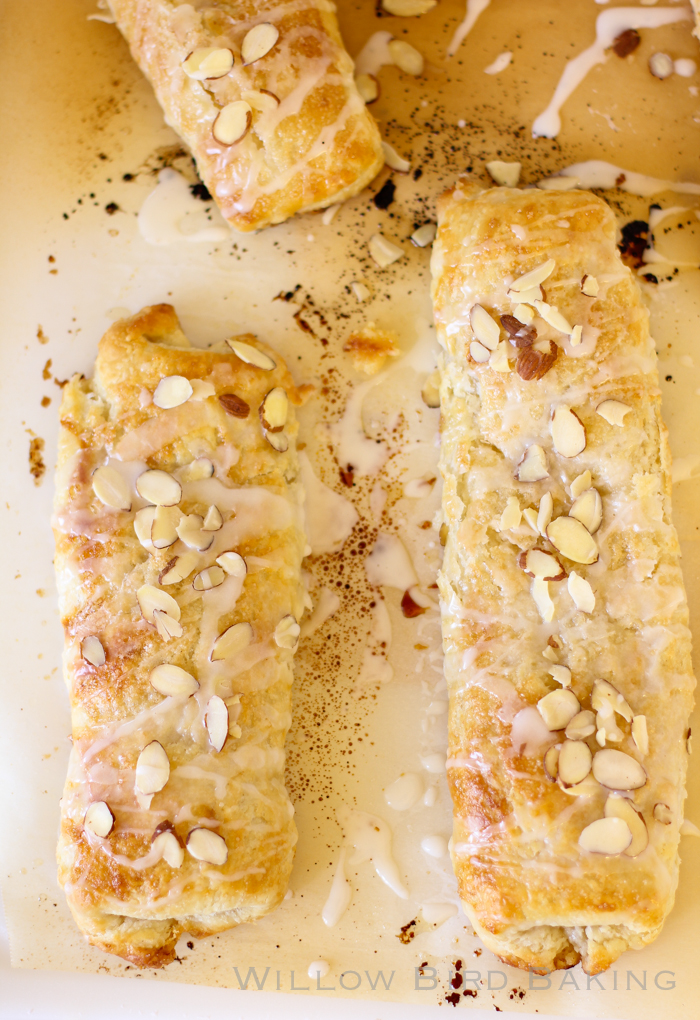 To read a story about an incident in 6th grade, learn (from someone not even close to a therapist) about how acting the opposite of how you feel can help you transform difficult emotions, and see more photos, please head over to Willow Bird Baking!

x-posted to food_porn, picturing_food, cooking, bakebakebake