They are light and fluffy, moist and really chocolatey. Actually, I'm just going to let the photos speak for themselves.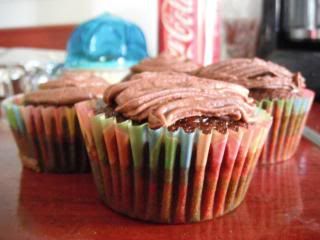 Chocolate Cola Cupcakes

For the cupcakes:
2 c. granulated sugar
2 c. flour
1 c. (2 sticks) butter
3 Tbsp coca powder
1 c. Coca Cola
1 tsp. baking soda
1/2 tsp. cinnamon
2 eggs
1/2 c. buttermilk
1 tsp. vanilla
For the frosting:
2 sticks butter, room temperature
3 c. powdered sugar
6 Tbsp cocoa powder
6 Tbsp Coca Cola
1 tsp. vanilla

Method:
Line cupcake tins with cupcake papers and preheat oven to 350°F.
In a medium sized saucepan, combine butter and Coca Cola and bring to a boil.
In a large bowl, combine flour and sugar. Slowly and carefully add in the Coke mixture and stir to combine. Mix in buttermilk, baking soda and cinnamon. Add cocoa powder and mix well. Stir in vanilla and add eggs, one at a time. Whip ingredients until well blended. Batter will be loose.
Fill cupcake papers about 2/3 full. Bake for 20 minutes, until tops spring back when lightly pressed and a toothpick inserted in the middle comes out clean. Yields about 24 cupcakes.
While cupcakes are cooling, combine butter and vanilla in the bowl of a stand mixer and beat until smooth.
Slowly add in the sugar and cocoa, adding the soda as needed when the frosting gets too thick. Continue adding soda until desired consistency is reached.
Beat 3-5 minutes until frosting is fluffy.
There's more photos, a better description and some great leftover chocolate frosting advice if you head on over to
Elfie's Edibles
!
I have no idea how I ever even stumbled on something like this. In a nutshell, it's a recipe for chocolate cake and chocolate frosting that uses Coca Cola. Google tells me it's popular in the south, but I can't figure out why it would be more popular there than anywhere else - these cupcakes are INCREDIBLE!