This cabbage soup is simple, warming, and delicious. It's got a slight kick due to red pepper flakes. Throw your leftover Thanksgiving turkey or anything else you love in it to make it your own, but I love it just the way it is.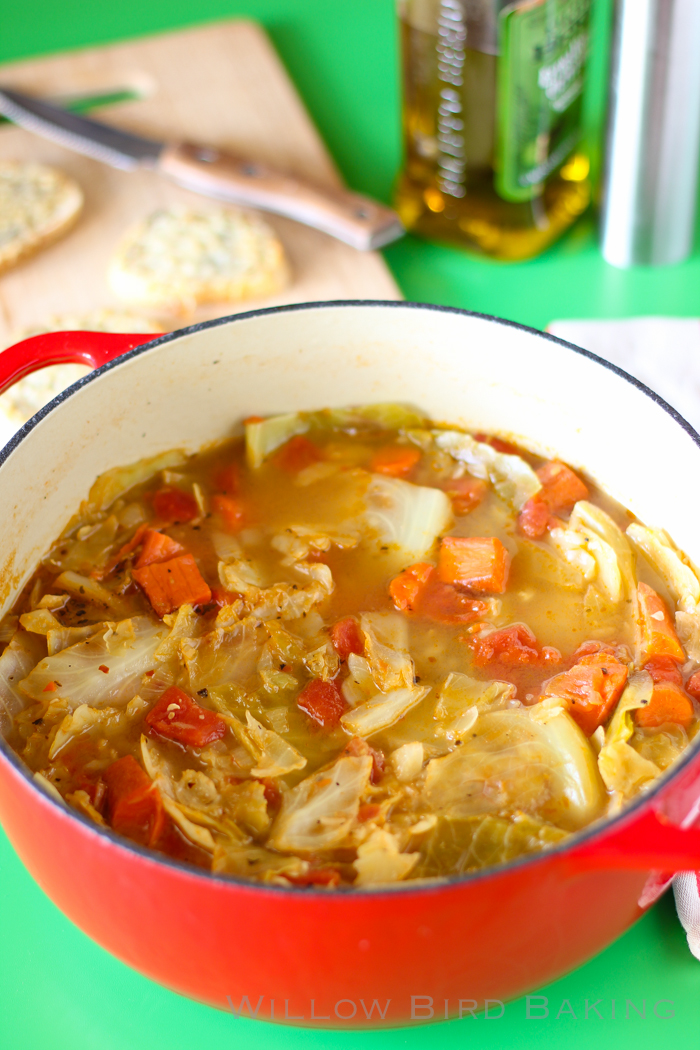 Light and Healthy Cabbage Soup
---

Recipe by: Adapted from AllRecipes
Yield: 8 servings

Ingredients:
2 tablespoons olive oil, divided
1 pound carrots, chopped into 1-inch chunks
1/2 head cabbage, cored and coarsely chopped
ginger and fennel seed, optional*
1/2 onion, chopped
2 cloves garlic, chopped
7 cups chicken broth
1 cup water
1 teaspoon salt, or to taste
1/2 teaspoon black pepper, or to taste
1 teaspoon red pepper flakes
1 (14.5 ounce) can Italian-style stewed tomatoes, drained and diced

Directions:
*Note: To avoid bloating and gas often associated with cabbage, you can boil it for 10 minutes, drain, and rinse it before completing the recipe. If you have fennel seed and ginger, you can tie the spices up in cheesecloth with some twine to boil along with the cabbage, which is also said to help.

Preheat oven to 400 degrees F and line a baking sheet with aluminum foil. In a medium bowl, mix carrots and 1 tablespoon olive oil. Spread them out on the prepared baking sheet and bake for 30 minutes or until tender (a knife should easily slide through). While roasting carrots, parboil cabbage as instructed above if desired.

In a large stockpot, heat 1 tablespoon of olive oil over medium-high heat. Sauté onion and garlic until translucent, about 5 minutes, before adding chicken broth, water, salt, pepper, and red pepper flakes. Bring to a boil and then add the tomatoes and cabbage. Simmer for 20-30 minutes. Serve hot.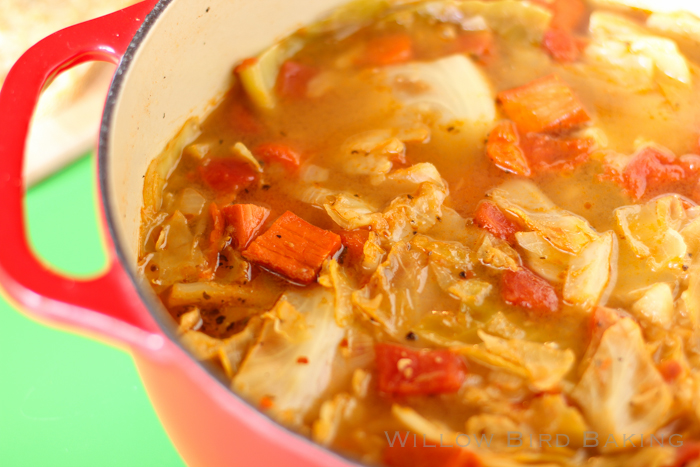 To get the recipe for the easy cheese toasts I made with this soup, see what the soup has to do with Holland, and see more photos, please head over to Willow Bird Baking!

x-posted to food_porn, picturing_food, cooking, bakebakebake