Everything's still a little crazy around my apartment -- still not fully unpacked -- so this weekend I decided to make something simple that didn't require oven time. I still wanted to do something a little out there, though, so I decided to set some Twinkies on fire. You know. The usual.

These Twinkies take a dip in coconut milk and then sugar before being brûléed with a kitchen torch (I tried broiling, but it didn't work as nicely for me, anyway. If you try it, let me know how it goes.) I then threw them in a bowl full o' ice cream and grabbed a couple of spoons to serve :) Hope you enjoy!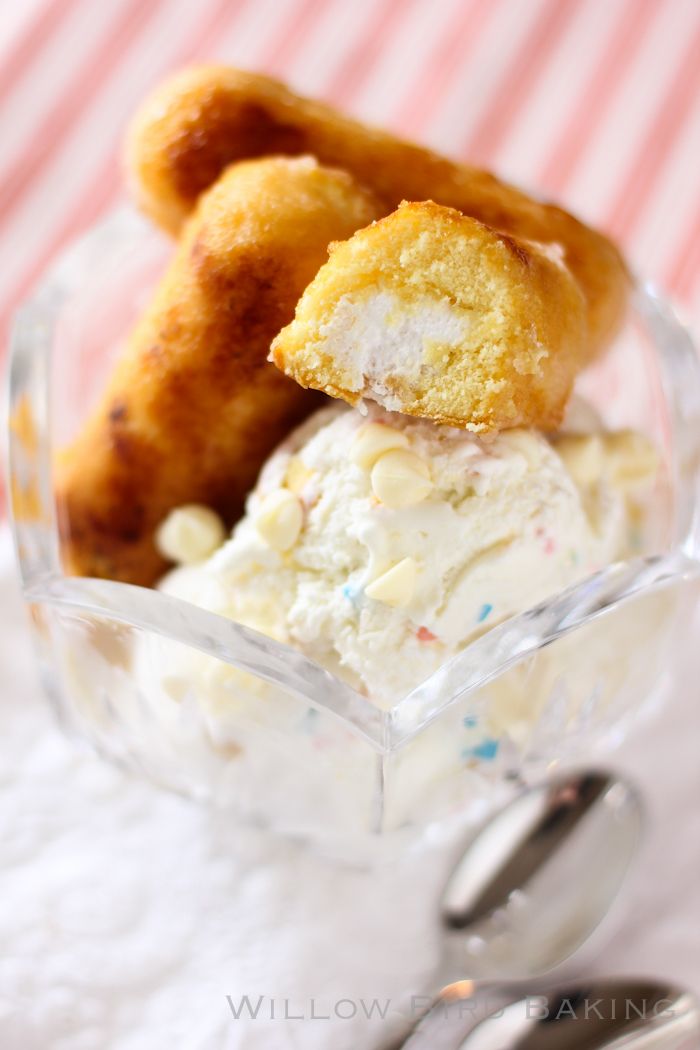 Brûléed Twinkie Ice Cream Sundae
---

Recipe by: Willow Bird Baking
Yield: 2-3 servings depend on how much ice cream you use

Celebrate Twinkies' comeback by setting them on fire and sticking them in ice cream.

Ingredients:
2-3 Twinkies (full disclosure: I couldn't find Twinkies, so I used Cloud Cakes)
1/4 cup sugar
1/4 cup coconut milk (or other liquid of your choice)
ice cream
white chocolate chips (or toppings of your choice)
sprinkles (or toppings of your choice)

Directions:
Pour coconut milk in one small, shallow bowl. Pour sugar in another. Set these up as an assembly line. Dip each Twinkie briefly in coconut milk to coat before rolling them in sugar to coat and placing them on a plate. Use a kitchen torch to "brûlée" the Twinkie until the sugar is bubbly and caramelizing.

Place a few servings of ice cream in a bowl and top with brûléed Twinkies (slicing one in half makes for a pretty presentation), white chocolate chips, and sprinkles. Put a few spoons into the bowl and serve!









To read about how the new marriage is going or see more photos, please head over to Willow Bird Baking!

x-posted to food_porn, picturing_food, cooking, cookingupastorm