I was planning to make a special dinner for my wife and decided to try something fancy that may very well turn out to be the epitome of a fail bomb.
I was going to try to Sous Vide a duck breast with none of the proper required equipment but instead with just makeshift home kitchen tools. I figured if it was just a basic Sous Vide, a temperature variation of a couple of degrees won't make too much of a difference. Hopefully! Now the main criterion to Sous Vide cooking, of which the literal English translation is "under vacuum", is to vacuum seal the meat. Unfortunately I tried a test run at home using a freezer bag and a vacuum cleaner without much success as you could probably guess :P Well it was worth a try!
And so I went to the butcher to buy the duck meat hoping that the duck breast would already come vacuum sealed! And that it did, but unfortunately it was sealed with a tray made from polystyrene! Probably not a good thing to cook with that. I figured what the hey, and asked the butcher if they had the facility to vacuum seal themselves. Yes they did, booyah! So I got them to remove the tray and reseal it in a new bag (they call it Cryovac).
Done! Now unfortunately this meant I couldn't marinate the meat or seal spices into the bag with the duck to flavour it, but no matter, I'll hope the sauce will be tasty enough to overcome the lack of seasoning. If this whole experiment works out, I'll definitely buy my own vacuum sealer! For the sauce I decided to try making a simple Orange and Cranberry Reduction to go with it as Duck always goes well with orange.
Duck Breast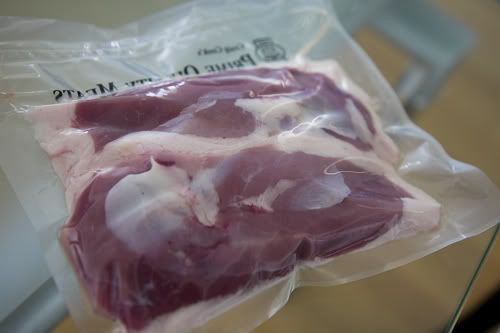 Now the hardest part about my makeshift home job was to keep the water at a constant 54 degrees for the next 5 or so hours. It took a huge amount of messing about to get the temperature to stablise enough so I could just leave it. Changing the fire strength, mixing hot and cold water, removing and replacing the pot lid..... Eventually I managed to get the temperature to stabilise at almost 54 degrees exactly and so in went the duck where it would stay for the next 5 hours or until it was time to eat!
As a result, in theory, I'll have meat that retains all the wonderfully soft and juicy texture of undercooked meat, but yet is thoroughly cooked. So it's time to test that theory!
Stabilizing the water temperature
To go accompany the duck, I also tried a new recipe of making Potatoes with Garlic, Pancetta, and Rosemary, roasted in Goose Fat. Ohhh.... yeah..... That sure sounds pretty damn decadent. Instead of going through the hassle of rendering my own duck fat, I managed to find a tub of Goose Fat at the gourmet section of David Jones in the city. At $25 a tub it ain't cheap, but will hopefully be worth it!!! Many people seem to say that duck/goose fat is like the magical ingredient in many many dishes. Let's see if they're right :)
Goose Fat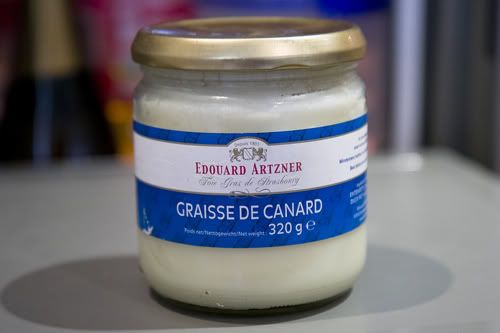 Sprinkling the Rosemary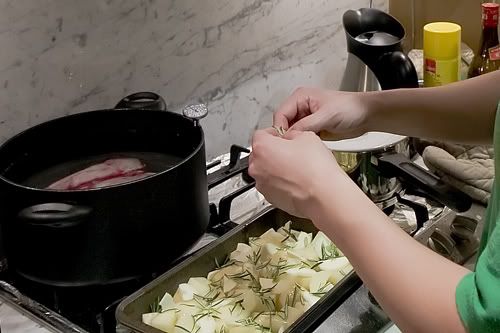 On the way into the oven
Potatoes with Garlic, Pancetta, and Rosemary, roasted in Goose Fat
The Potatoes turned out wonderfully! Though they aren't as crispy as I would have liked because the pancetta started to burn. Next time, I'll first par roast the potatoes before throwing everything else on it. Hopefully it'll be golden crispy perfect then! The flavour and aroma from the goose fat was just wonderful. It gave the potatoes a terrific flavour highlight without being too rich. It's something I'm also going to be experimenting with a lot in both future dishes and gravy.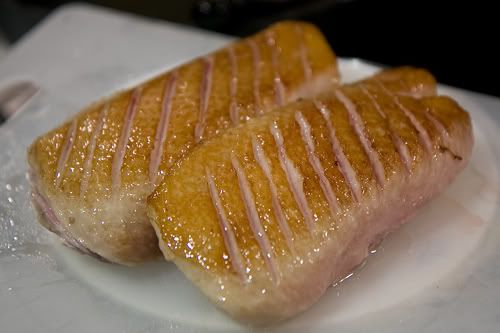 When the duck was done, I sliced open the bag, drained the blood, then washed the duck breasts. I then scored the fat side and gave them a quick sear in a hot pan to brown and crisp the skin side. I didn't fry it long enough as I wanted to play it safe and not cook the inside further, but it still turned out great. I'll just remember to sear it for longer next time. The thick layer of duck fat under the skin acts as a pretty good buffer to keep the flesh away from the heat.
And finally, I also prepared a light, fruity, and refreshing salad of Pear and Blood Orange. I figured the citrus and tang of the Blood Orange will help neutralise the fat and richness of the duck and potatoes, plus also compliment the sweetness of the pear and the sauce. It turned out to be a wonderful combination.
For the entree we had a toasted brioche that we picked up from the Patisserie during brunch with tinned Black Truffled Foie Gras. Needless to say, simple, rich, and decadent.
And after slicing the duck and plating the bugger, it was finally time for our special dinner!!! Now I don't normally rate my own cooking. Usually I'm quite content with through very critical of my own preparations, but this was fucking amazing. The sous vide technique had worked out absolutely incredibly!!! This was arguably the best duck I've ever had in my life. Which actually isn't hard seeing as I don't usually order duck in restaurants. I usually only eat them either as part of degustation courses or picking from someone elses plate. This excludes chinese roast duck of course.
But this was truly amazing. The flesh was incredible and hard to describe. It was fully cooked and yet still.... undercooked. There was absolutely no resistance in the flesh and I could not even imagine that this was from a breast. The fibers of the meat were plump, juicy, and every bite truly melted in my mouth. The sauce complemented the duck perfectly along with the salad and roast potatoes. Although next time I'll reduce the sauce even more just to thicken it up more so and add in a tad more fat.
Unfortunately it also was accompanied by no small amount of guilt. But well.... special occasions call for special exceptions I guess! I'm very very happy with my first foray into sous vide cooking, and am really thinking of investing in a temperature controller or water circulator/thermobath, and a vacuum sealer when I move back to Singapore. The possibilities of the world of sous vide cooking is so exciting and I really can't wait to explore them further! Who knows, I may hopefully after a bit more experience be confident enough try cooking it for guests! :)
Sous Vide Duck Breast with an Orange Cranberry Reduction,
Garlic Rosemary & Pancetta Roasted Potatoes, and a Pear & Blood Orange Salad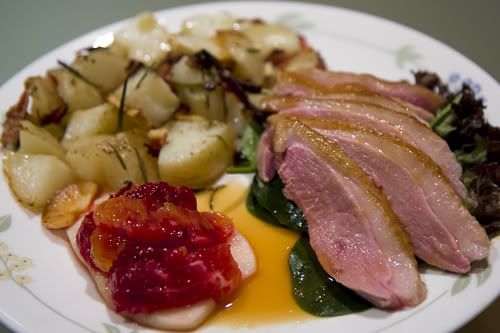 Hi guys, someone just left a comment on my blog advising me about this community and I just have to say wow, this is certainly food porn heaven with some amazing photos! :) So here's my first post! It's basically just a cut and paste from my LJ post.